PLATTSBURGH — Police got a major break in their hunt for escaped killers Richard Matt and David Sweat just when it seemed the trail might be going cold.
The inmates broke out of Clinton Correctional Facility in Dannemora early on June 6, and for two weeks, the search had centered on that area, along with an unfruitful couple of days in Willsboro.
And now, attention had turned to Steuben and Allegany counties, 350 miles away.
To outsiders, it appeared police were stumped.
'THE LOOK ON THEIR FACES'
As the public and media speculated that Matt and Sweat must be in Mexico or someplace else far away by then, morale among the more than 1,000 searchers from many agencies was being tested.
"You could see the look on their faces," said State Police Troop B Commander Major Charles "Chuck" Guess, who led the search for Matt and Sweat.
"These guys are listening to the news, and the news is telling them that (the fugitives) are in Mexico.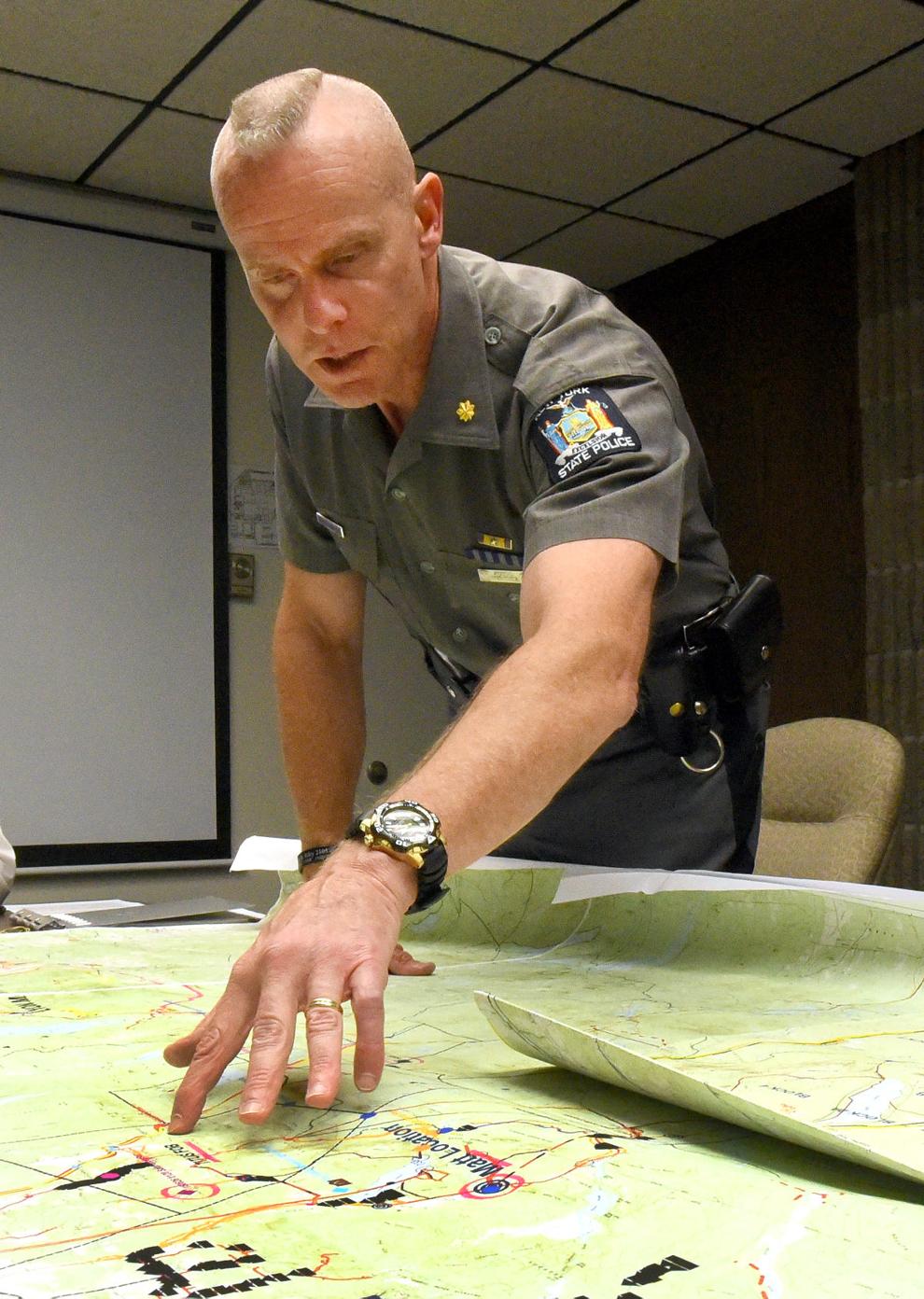 "Although they would still go out and do their jobs and do them well, we would tell them daily that 'without evidence that they are out of the area, you got to assume they are still here.'"
HEADED TO CAMP
On the morning of Saturday, June 20, John Stockwell went to check on a small camp called Twisted Horn near Black Cat Mountain in the Franklin County hamlet of Mountain View. He and several fellow correction officers had leased it for several years for use during hunting season.
State Police had given the public a stake in the search, urging people to report any unusual situations and to check trail cameras and unused buildings such as camps.
Stockwell, 47, decided to take his trusty 5-year-old black Labrador retriever, Dolly, with him.
Because Matt and Sweat were still on the loose, he also took a handgun.
'BE CAREFUL'
He and his wife, Nancy, were marking their 28th anniversary, having been together since they were 15.
They talked about going to a casino to celebrate, but it was a nice day and John wanted to check the cameras at the hunting camp. Nancy said she would work in the yard of their Lyon Mountain home.
"The next day it was supposed to rain, so we figured we would go to the casino then," she told the Press-Republican on Wednesday.
"The last thing I told him when he left was, 'Do you know how to use my cellphone? I love you, and be careful."
DOG BRISTLES
Stockwell drove his all-terrain vehicle past the gate in Mountain View and continued on about a mile and a half down the wooded trail to the camp.
Dolly romped on the trail and in the woods alongside the ATV as Stockwell rolled slowly — about 4 or 5 mph, he guessed — down the rugged trail.
As he approached the trail opening near the cabin, Dolly sprinted ahead.
When Stockwell caught up with her, the dog was stopped in front of the building. Her ears were perked, and the hair on her back was up.
"When I saw her like that, I knew something was not right," Stockwell said.
Citing his job with corrections and the ongoing investigation, he would not get into details of what he saw.
"But I will tell you that dog probably saved my life," he said. "She is the real hero."
'HE SAW SOMEONE'
Guess related that as Stockwell got about 15 yards from the cabin, he could see through the large front-door window straight through the back windows to the deck behind the cabin.
"He saw someone step back," Guess said.
Stockwell drew his handgun and moved a bit to his right to get a better angle.
He saw, past the window, a figure, this time with what appeared to be a hood over his head. He wasn't sure if it was the same person or a second man.
"He had to challenge the intruder," Guess said. "He felt exposed at the front."
Stockwell heard someone scurry off the back deck and head into the woods behind the cabin.
NO CELL SIGNAL
He had no signal in the remote area to use his cellphone to call police, so he jumped onto his ATV and made the 20-minute trip back to Wolf Pond Road, the main road through that area.
There, he met others on ATVs.
Stockwell told them what he had seen and asked them to try to find a spot where they could get service to call 911, while he continued to try as well.
The others had just seen a State Police car pass by, so they drove off in search of those troopers.
FOOD OUT, MAP MISSING
A State Police sergeant and two troopers met Stockwell at the gate, and the four of them made their way back to the cabin, getting there about 45 minutes after he had seen the intruders.
Inside, Stockwell noticed a jar of peanut butter on the kitchen table. A coffee pot was out, and a map of the area had been taken off a wall.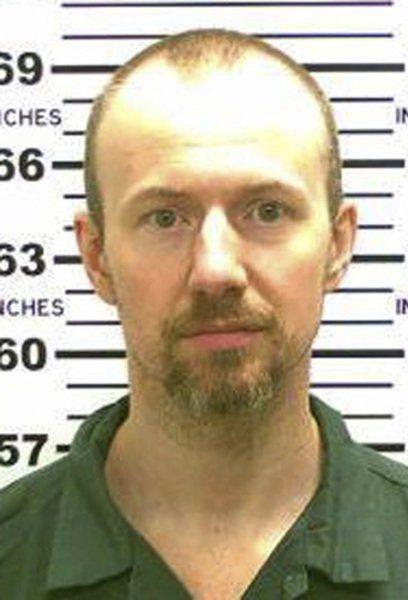 Socks found in the camp had traces of blood. Other key pieces of evidence lay in the woods just outside the cabin.
PRISON-ISSUE UNDERWEAR
Apparently, in his haste to get away, Matt had dropped some items on a trail, including Corecraft-brand, prison-issue underwear, a water bottle and a small fabric pouch that held a toothbrush.
Finding prison underwear wasn't immediate confirmation, Guess said, because many people have access to those, even correction officers.
But the search of that area immediately intensified.
PROOF POSITIVE
Meanwhile, the recovered items were quickly taken to the State Police Forensic Investigative Center in Albany, which turned around the results within 24 hours.
On Sunday, June 21, police had what they had been looking for from the start: solid confirmation that the escapees were in the North Country.
The DNA evidence was positive — Matt and Sweat had both been at Twisted Horn cabin.
"Those guys (lab technicians) are the unsung heroes in this," Guess said.
"They did a phenomenal job, and they were instrumental."
SHIFT IN FOCUS
With DNA evidence in hand, Guess was able to reorganize the search with confidence.
The hunt in Allegany County was abruptly canceled.
Re-charged officers were shifted west to Franklin County, and a perimeter was established in the Mountain View and Owls Head area in the Town of Bellmont.
Hundreds more officers poured into the area.
Guess and his colleagues moved their main command center from Cadyville, just east of Dannemora to Titus Mountain Family Ski Center south of Malone, where they would have more space and be closer to the last confirmed location of the fugitives.
NOW ARMED
The search was still far from over.
The area was thickly wooded and dotted with numerous hunting and seasonal camps where the two murderers could hide and gather supplies.
Matt and Sweat had found a .20 gauge shotgun at Twisted Horn camp, hidden between two mattresses in one of the bunks, Guess said.
But, they had no ammunition for it — not yet, anyway.
Police had said from the beginning that they were operating under the assumption that the fugitives could be armed.
Now, authorities knew for sure they had a gun.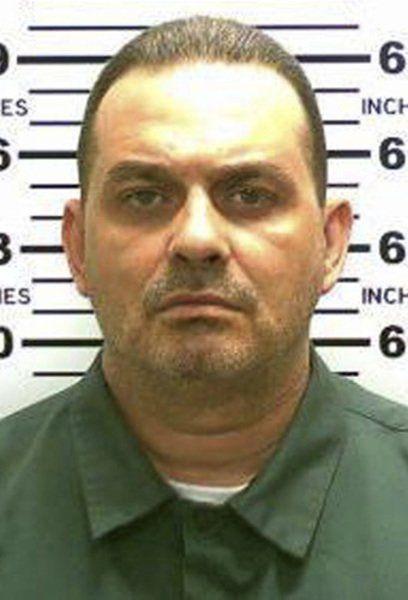 ARGUMENT AT CABIN
Investigators now know that the fugitives had a disagreement about when to leave Twisted Horn, where they had spent two to three nights already.
Matt was comfortable, Guess said, having access to alcohol, heat and water.
He wanted to stay, but Sweat feared their isolation might be breached.
"It was a Saturday, and it was a beautiful day, and he thought that someone could be coming to check on the camp, and he wanted to get out of there," Guess related.
Matt argued for staying put, saying that if someone did come, they could take him hostage or just kill him, Sweat told police after his capture.
"But Sweat said he wanted no part of that," Guess said.
It's a good thing there were no shells for the shotgun, the State Police major said.
"With his (Matt's) desire to stay at the camp and deal with whoever rolled up on them, it may have been a different outcome if he had ammunition for that gun."
MATT 'A LIABILITY'
The two inmates kept on the run after being chased out of Twisted Horn.
For all they knew, the man who had challenged them could have been an officer with a search patrol, and they needed to get far away fast.
They trudged through deep woods for the next few days, the tension between them growing.
Sweat wanted to get away from Matt, Guess said.
"He considered Matt to be a liability," he said. "He wasn't physically fit, and he was drunk as often as supplies would allow."
A STUMBLE, A SPLIT
At one point, as they were hiding from police, Matt stumbled and fell, making noise that might have alerted searchers in the area.
Sweat used that as his opportunity to ditch his partner, Guess said, taking off running in an easterly and northerly direction.
Matt headed back to the west, where he eventually found a place to hide off Webster Street Road in the Town of Malone.
It would prove to be a deadly decision.
---
Email Joe LoTemplio:
jlotemplio@pressrepublican.com
Twitter: @jlotemplio